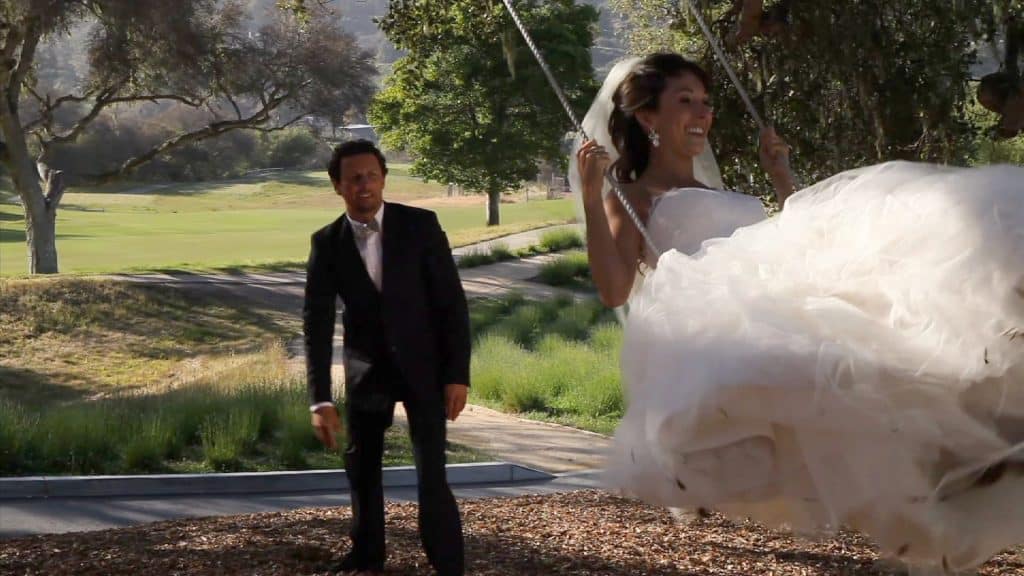 Packages: Listed in order of labor intensity
The BigTime – Shoot Only
Just as the name implies, the Shoot Only is simply that.
Your wedding day will be professionally shot with excellent image and sound. No editing.
Are you an expert video editor? Do you have a friend or family member who is? You might consider hiring BigTime to shoot your video and make your own editing arrangements.
Of course you won't get our unique style of editing, but you can save the cost now. You may also opt to have us edit for you after you've caught up with wedding expenses or next year as an anniversary gift!
Includes upload or transfer of camera footage to your computer. Transfer to hard drive is also available but we'll have to charge sales tax if you live in California. (see Electronic Delivery below)
The BigTime Basic (Full Length Film)
This is a rough-cut edit without music, or sound mixing – very basic. The BigTime Basic is a very simple full length edit of everything we've shot for you.
All of the footage is organized, multiple camera angles are synced up so that the shot cuts back and forth between the different views with a continuous sound track.
This is an easy way to watch all of the footage, cleaned up and organized consecutively. Typical Basic film is about 3 hours long.
The BigTime Creative (Full Length Film)
This is a step up from the Basic. It's a Full Length documentary movie with all tracks of sound mixed, multiple cameras are synced, color correction, titles, transitions and chapter segments cut to music. The ceremony, toasts and other presentations are kept in their entirety so you can re-live those events as they happened. The Creative includes stylistic editing for a higher level of viewer enjoyment. Typical length of a Creative edit is about 80 minutes depending on length of ceremony and toasts.
We're happy to share a Full Length Creative for you to watch – just ask!
The BigTime Highlights (3-10 minute film)
This is a short stand-alone short film that tells the story of the wedding day in 3-10 minutes (your choice of length).
The Highlights is offered as an add-on to the Basic or Creative Packages – which gives you the option of viewing both long and short versions. Many people think a highlights film takes the least time to create because of its short length.  Actually the opposite is true. It takes longer to create a highlights because the footage first needs to be organized as a rough cut or Basic edit, cameras and sound synced. Once this is done, we're ready to start cutting your highlights film. We often spend 3 days or more creating these little gems.
Your wedding day Highlights film is the perfect way to share your day online with family and friends.
Our typical coverage day is 6 hours which is often ideal for a single location event.
For multi-location events and weddings with a First Look, you may need an extra hour or two.
To determine your coverage needs: Tell us the 1) size of your group, 2) the ceremony and reception venue, 3) your ceremony time and planned meal time. With this info we can give you a sample timeline and suggest packages that will best fit your event.
Camera coverage types:

Single Camera Coverage 1/1
This is one camera person for the coverage day.
All single camera coverage packages include a primary camera person plus a 2nd unattended camera during the ceremony.
2/1
Primary camera person for the entire coverage day
2nd camera person – through ceremony (up to 2 hours)
The 2/1 is only available for Monterey/Carmel area events.
If we're traveling to another area, we typically ride in one vehicle.
2/2
2 camera persons for the entire coverage day.
Two camera persons offer various vantage points throughout the day.
We will split up pre-ceremony, take alternate angles during the ceremony,
toasts, First dance and family dances. Especially useful for large groups.
Electronic Delivery:
Films are uploaded to the cloud or internet or transferred directly to your laptop.
Any other transfer including DVD, tape, CD, flash drive or hard drive is taxable at the rate of 8.75% unless you are
an out of state resident, in which case we are not required to charge sales tax.